Shell doubles capacity with expanded lubricants plant in Indonesia
Nov 11, 2022
Bekasi – Shell Indonesia ('Shell') has expanded its Marunda Lubricants Oil Blending Plant (LOBP) in Bekasi, to meet the growing demand for premium lubricant products in Indonesia.
At the launch, the Minister of Industry of the Republic of Indonesia represented by Acting Director General of Industry, Chemical, Pharmaceutical and Textile, Ignatius Warsito, said, "We appreciate Shell's commitment to expand investment in Indonesia and innovate to help provide lubricants and support national economic growth. We hope that Shell can continue to be a strategic partner of the Government of Indonesia in increasing the capacity of the lubricants industry in the country."

The new plant is equipped with world-class technology, including cutting-edge blending equipment, high-speed filling lines and Automatic Mobile Robot (AMR). AMR is a smart robot system to offload, stage, assembly the finished goods from the small packaging filling lines to aid truck loading.
As part of Shell's Powering Progress strategy to reduce emissions from its operations, the plant includes sustainability features, such as solar panels and a rainwater harvesting system to help reduce water consumption.
Machteld De Haan, Global Executive Vice President of Shell Lubricants, said, "Indonesia is a key growth market for our business and our investment to expand the plant is a sign of our confidence in the market. Lubricants are an essential enabler for Indonesia's continued growth. Through the plant expansion, we will strengthen our supply chain to enable us to serve more customers faster and in a more sustainable way."
Marunda LOBP will continue to produce Shell's leading lubricants products, such as Shell Helix (passenger car motor oil), Shell Advance (motorcycle oil), Shell Rimula (truck and heavy-duty engine oil), Shell Spirax (axle and transmission oil), as well as other industrial lubricants. These products will support Indonesia's growing demand for vehicle motor oils and other lubricants for applications in sectors like mining, power generation, transportation and infrastructure building.
The automotive, industrial, and marine sectors account for the majority of lubricants demand in the country. According to the Association of Indonesia Automotive Industries (Gaikindo), over 800,000 new vehicles were sold in 20211, while data from the Indonesian Motorbike Association (AISI) showed that over 5 million new motorcycle units were sold in the same year2.
Inauguration Ceremony of Shell Marunda LOBP Expansion
(from left to right) Mr Gautam Pal - VP Lubricants Supply Chain, Mr Andri Pratiwa - Director of Lubricants Shell Indonesia, Ms Ingrid Siburian - President Director and Country Chair Shell Indonesia, Mr Ignatius Warsito - Acting Director General of Chemical, Textile, and Pharmaceutical Industry, Ministry of Industry of the Republic of Indonesia, Ms Mansi Tripathy - VP Lubricants Asia Pacific, Ms Machteld de Haan - EVP Global Lubricants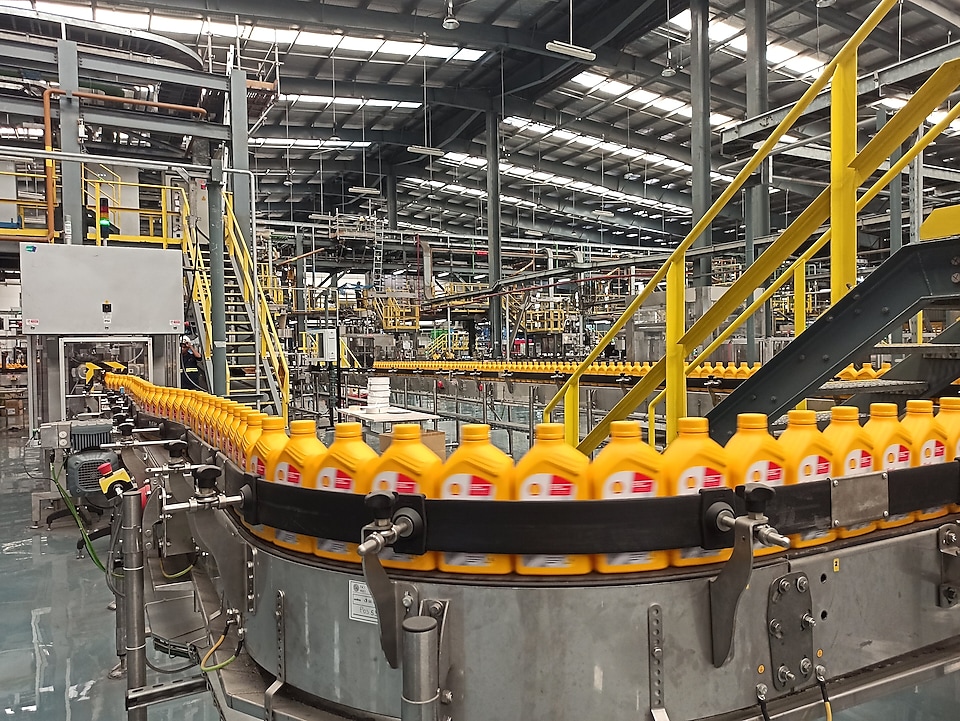 High Speed Filling Line Machine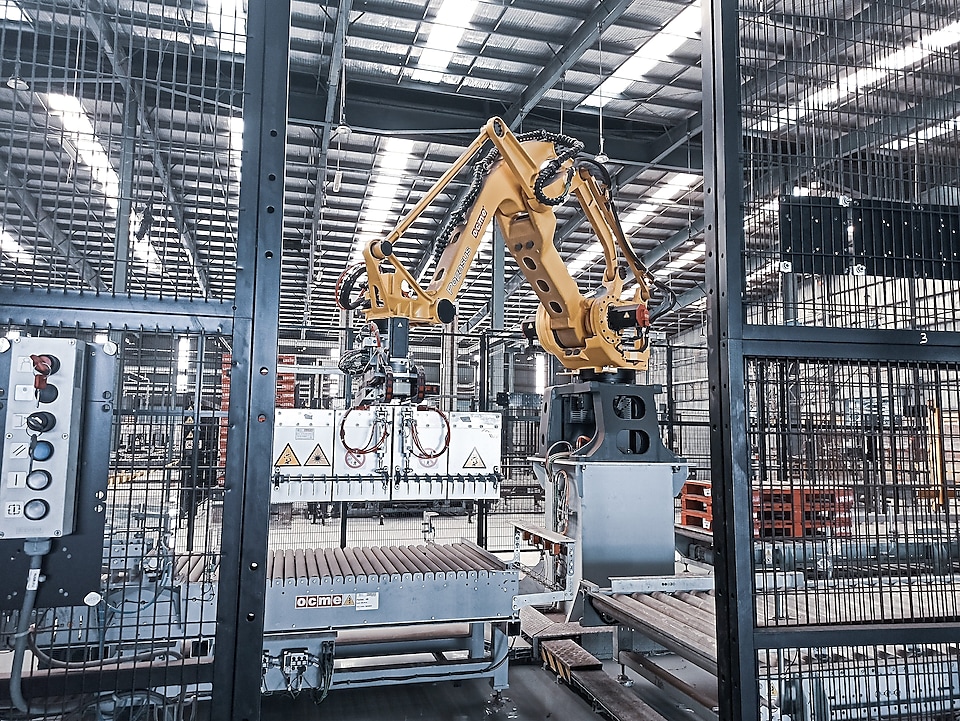 High Speed Line Palletizer
Notes to Editors
Shell's first Lubricants Oil Blending Plant in Indonesia was built in Marunda (Marunda LOBP) in November 2015, with annual capacity of 136 million litres.
The investment of Marunda LOBP expansion ("Marunda 2.0 Project") was announced in March 2020.
Marunda 2.0 Project was a brownfield project, which was executed alongside an operational plant during the global pandemic in 2020-2022. Forty new tanks with a total capacity of 21,000 cubic metres were built, four new state of art high performance filling lines were installed.
Marunda LOBP has also installed a solar power system. Every year, the system is expected to generate 1.1 million kilowatt-hour of power and will power approximately 35% of the LOBP's electricity consumption.
About Shell Lubricants
The term "Shell Lubricants" collectively refers to Shell Group companies engaged in the lubricants business. Shell sells a wide variety of lubricants to meet customer needs across a range of applications. These include consumer motoring, heavy-duty transport, construction, mining, power, agriculture and general manufacturing. Shell's portfolio of lubricant brands includes Pennzoil, Quaker State, Shell Helix, Shell Advance, Shell Rotella, Shell Rimula, Shell Argina, Shell Gadinia, Shell Corena, Shell Diala, Shell Morlina, Shell Mysela, Shell Naturelle, Shell Omala, Shell Spirax, Shell Tellus, Shell Tonna, and Shell Turbo. Shell was named the leading global supplier of finished lubricants for a 15th consecutive year, according to the 19th edition of Kline & Company's report Global Lubricants: Market Analysis and Assessment 2021. Shell was named number one global supplier in all three main categories – consumer, commercial and industrial.
Enquiries
Edit Wahyuningtyas
Shell Spokesperson
Email: e.wahyuningtyas@shell.com
Cautionary note
The companies in which Shell plc directly and indirectly owns investments are separate legal entities. In this announcement, "Shell", "Shell Group" and "Group" are sometimes used for convenience where references are made to Shell plc and its subsidiaries in general. Likewise, the words "we", "us" and "our" are also used to refer to Shell plc and its subsidiaries in general or to those who work for them. These terms are also used where no useful purpose is served by identifying the particular entity or entities. ''Subsidiaries'', "Shell subsidiaries" and "Shell companies" as used in this announcement refer to entities over which Shell plc either directly or indirectly has control. Entities and unincorporated arrangements over which Shell has joint control are generally referred to as "joint ventures" and "joint operations", respectively. "Joint ventures" and "joint operations" are collectively referred to as "joint arrangements". Entities over which Shell has significant influence but neither control nor joint control are referred to as "associates". The term "Shell interest" is used for convenience to indicate the direct and/or indirect ownership interest held by Shell in an entity or unincorporated joint arrangement, after exclusion of all third-party interest.
Forward-looking statements
This announcement contains forward-looking statements (within the meaning of the U.S. Private Securities Litigation Reform Act of 1995) concerning the financial condition, results of operations and businesses of Shell. All statements other than statements of historical fact are, or may be deemed to be, forward-looking statements. Forward-looking statements are statements of future expectations that are based on management's current expectations and assumptions and involve known and unknown risks and uncertainties that could cause actual results, performance or events to differ materially from those expressed or implied in these statements. Forward-looking statements include, among other things, statements concerning the potential exposure of Shell to market risks and statements expressing management's expectations, beliefs, estimates, forecasts, projections and assumptions. These forward-looking statements are identified by their use of terms and phrases such as "aim", "ambition", ''anticipate'', ''believe'', ''could'', ''estimate'', ''expect'', ''goals'', ''intend'', ''may'', "milestones", ''objectives'', ''outlook'', ''plan'', ''probably'', ''project'', ''risks'', "schedule", ''seek'', ''should'', ''target'', ''will'' and similar terms and phrases. There are a number of factors that could affect the future operations of Shell and could cause those results to differ materially from those expressed in the forward-looking statements included in this announcement, including (without limitation): (a) price fluctuations in crude oil and natural gas; (b) changes in demand for Shell's products; (c) currency fluctuations; (d) drilling and production results; (e) reserves estimates; (f) loss of market share and industry competition; (g) environmental and physical risks; (h) risks associated with the identification of suitable potential acquisition properties and targets, and successful negotiation and completion of such transactions; (i) the risk of doing business in developing countries and countries subject to international sanctions; (j) legislative, judicial, fiscal and regulatory developments including regulatory measures addressing climate change; (k) economic and financial market conditions in various countries and regions; (l) political risks, including the risks of expropriation and renegotiation of the terms of contracts with governmental entities, delays or advancements in the approval of projects and delays in the reimbursement for shared costs; (m) risks associated with the impact of pandemics, such as the COVID-19 (coronavirus) outbreak; and (n) changes in trading conditions. No assurance is provided that future dividend payments will match or exceed previous dividend payments. All forward-looking statements contained in this announcement are expressly qualified in their entirety by the cautionary statements contained or referred to in this section. Readers should not place undue reliance on forward-looking statements. Additional risk factors that may affect future results are contained in Shell plc's Form 20-F for the year ended December 31, 2021 (available at www.shell.com/investor and www.sec.gov). These risk factors also expressly qualify all forward-looking statements contained in this announcement and should be considered by the reader. Each forward-looking statement speaks only as of the date of this announcement, November 11, 2022. Neither Shell plc nor any of its subsidiaries undertake any obligation to publicly update or revise any forward-looking statement as a result of new information, future events or other information. In light of these risks, results could differ materially from those stated, implied or inferred from the forward-looking statements contained in this announcement.
Shell's net carbon footprint
Also, in this announcement we may refer to Shell's "Net Carbon Footprint" or "Net Carbon Intensity", which include Shell's carbon emissions from the production of our energy products, our suppliers' carbon emissions in supplying energy for that production and our customers' carbon emissions associated with their use of the energy products we sell. Shell only controls its own emissions. The use of the term Shell's "Net Carbon Footprint" or "Net Carbon Intensity" are for convenience only and not intended to suggest these emissions are those of Shell plc or its subsidiaries.
Shell's net-Zero Emissions Target
Shell's operating plan, outlook and budgets are forecasted for a ten-year period and are updated every year. They reflect the current economic environment and what we can reasonably expect to see over the next ten years. Accordingly, they reflect our Scope 1, Scope 2 and Net Carbon Footprint (NCF) targets over the next ten years. However, Shell's operating plans cannot reflect our 2050 net-zero emissions target and 2035 NCF target, as these targets are currently outside our planning period. In the future, as society moves towards net-zero emissions, we expect Shell's operating plans to reflect this movement. However, if society is not net zero in 2050, as of today, there would be significant risk that Shell may not meet this target.
1 Sepanjang 2021 Penjualan Mobil Domestik di Atas 800 Ribu Unit – GAIKINDO
2 Statistic Distribution - AISI