Rome
We sent Italian motoring journalist Giuliano Pavone to his nations capital, Rome, in search of a Secret Circuit.
My dream night starts by cruising between the two banks of the river Tiber, from Trastevere to Campo de'Fiori, Piazza Navona to the Pantheon: this is the beating heart of Rome. I happily brave the maze of narrow streets and pedestrian zones to watch people having fun.
But it's time to escape from the labyrinth of central Rome, and point the bonnet south. I cross Piazza Venezia and the elephantine Altare della Patria monument, and the Via dei Fori Imperiali opens up in front of me – wide, straight and clear of traffic. On my right is the Roman forum: a sort of archaeological Disneyland. And as I flash past the Colosseum, standing since 80 A.D, I get a rush of emotion at the sight of this magnificent, ancient sporting venue, the scene of so many cruel games.
The Baroque treasures and imperial ruins of central Rome are still in my sights when I reach EUR, the modern district that was begun in the fascist era and completed in time for the 1960 Olympics.
The district's essential forms, expansive vistas, geometric lines and dazzling white buildings make it a sort of natural stage set that is neutral yet full of character. It's easy to see why numerous films and car ads have been shot here. And given the vastness of its spaces, it's easy to see why EUR is first choice for a possible future Formula 1 meeting in Rome. I'm in the right place, then.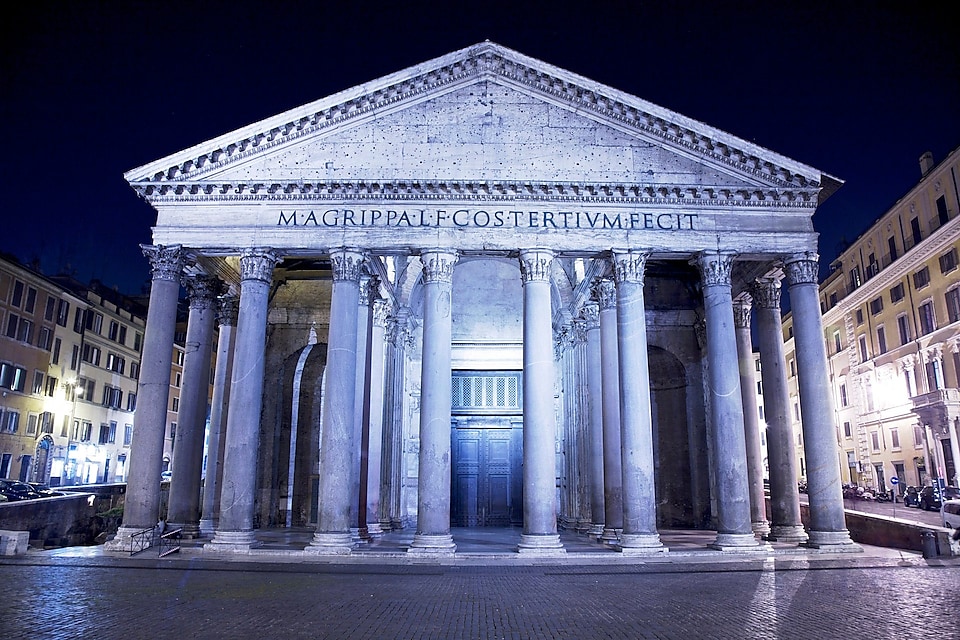 All Roads Lead to Rome
I start to head north again. Rome is a very distinctive city. Romanità, Roman-ness, that unmistakable blend of disenchanted irony and conviviality – is what gives the eternal city its unique atmosphere. But like London or Paris, Rome is also multi-faceted, with many micro Romes making up the big one, each with its own distinguishing features.
One of these microcosms is Testaccio, which I can now see from via Ostiense, past the ancient pyramid of Cestius. Historically a working-class, industrial district, Testaccio is now home to a variety of bars and restaurants, and has transformed itself into one of the hippest hotspots for Roman nightlife, rivalling the Pigneto and Ponte Milvio. But at this hour, the Core de Roma – the Romans who represent the 'heart of Rome' – are at home, or else ensconced inside a club.
Even the historic centre is empty now. I only get out of the car for a few minutes, at Piazza di Spagna, and after a brief stroll, I reach the viewpoint on the Pincian Hill, from which I can see the enormous Piazza del Popolo, and beyond it, the entire city. By day, Rome's beauty can be obscured by noise, traffic, and hordes of tourists. By night, however, everyday life is replaced by eternity.
I retrace my steps back to the car and take the driver's seat once more. I've seen many masterpieces tonight, but this city is also a masterpiece in its own right, the product of tradition, style, and passion: true art, in fact. And for a few more hours, it's mine, all mine.
More in Motorists
We sent motoring journalist Pat Devereux on a tour of San Francisco, the city immortalised in Bullitt, the 1968 movie starring king of cool, Steve McQueen.
Driving through the capital of the world's most technologically advanced nation is unlike anything else on earth. Motoring journalist Nik Berg guides us through Tokyo on its most famous road.