10W-40 Heavy Duty Engine Oil - Rimula R5 E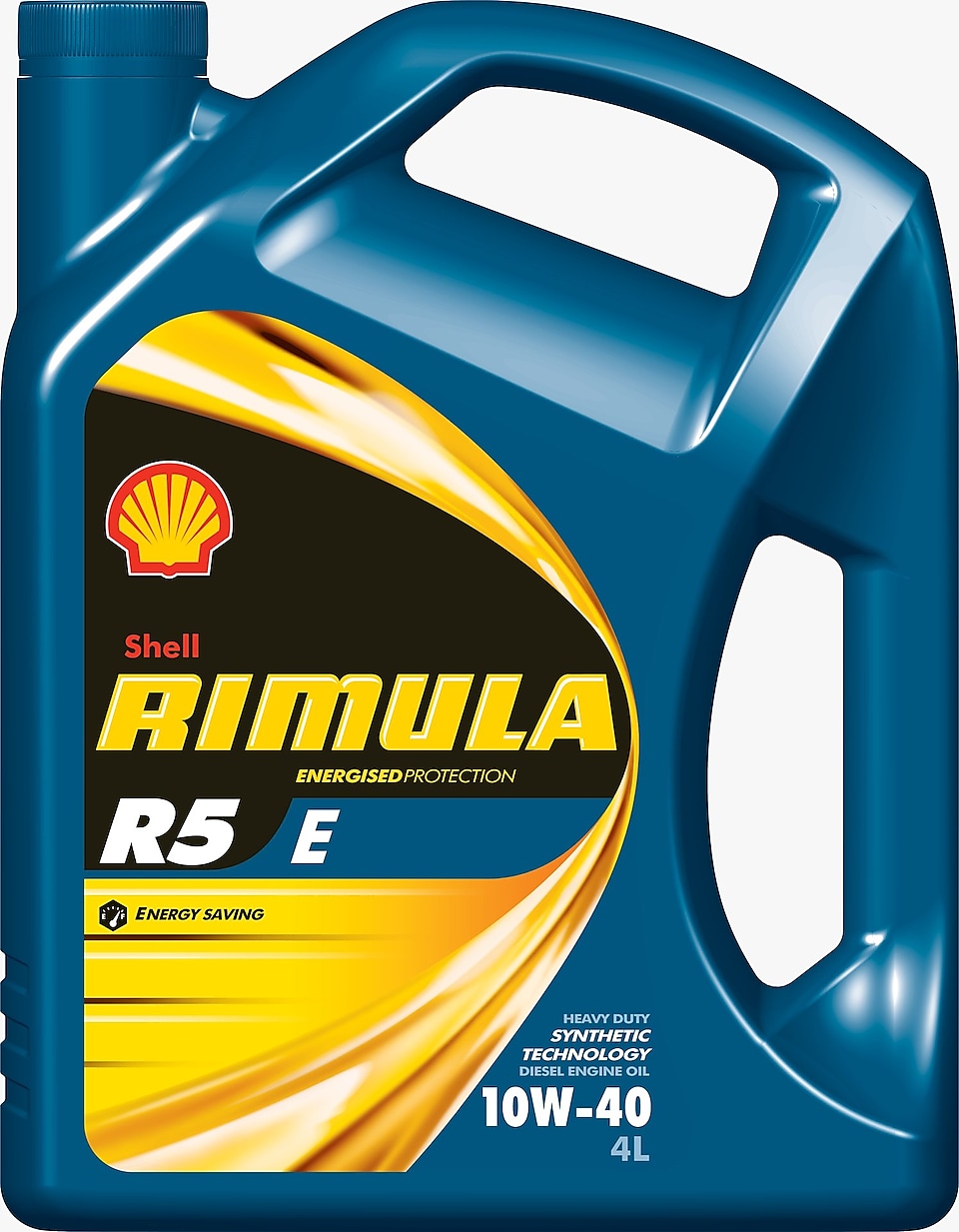 Helps deliver extended drain capability and enhanced wear protection
No matter how hot, cold, steep, dusty, muddy or extended your operations, you need to know that your oil will protect your engine under all conditions. 
The Energised Protection of Shell Rimula heavy-duty diesel engine oils works relentlessly in three critical areas:
Acid control – well-proven performance additives help to protect against corrosion from acids formed as fuel burns.
Deposit control – helps to keep the engine clean for consistent performance and long life.
Wear control – keeps moving metal engine surfaces apart for long engine life.
Shell Rimula R5 E
Shell Rimula R5 E 10W-40 energy saving oil protects against acid corrosion, dirt/deposits, wear
Shell Rimula R5 E uses selected synthetic technology base oils and additives to deliver fuel economy performance, and to protect under the full range of pressures and temperatures found in modern engines. It's the ideal choice for operators of heavy-duty truck and bus fleets.
Protective power
The combination of synthetic technology base oils and advanced additive system delivers excellent protection even at low temperatures when the enhanced cold flow properties help to protect your engine.
Energy savings
Its superior flow and frictional properties compared to a conventional SAE15W-40 oil means that Shell Rimula R5 E 10W-40 can help to improve fuel economy. Testing in laboratory simulations has shown that 10W-40 oils such as Shell Rimula R5 E can deliver up to 1.7% fuel economy improvement.
Long life protection
Synthetic based oils help to boost the protective power of the oil in two ways:
Enhanced oxidation control: Shell Rimula R5 E shows up to 30% longer life in industry standard testing compared to previous generation conventional oils.
Continuous wear protection: synthetic technology oils such as Shell Rimula R5 E have enhanced flow properties compared to standard SAE 15W-40 oils. This means they can reach the critical bearings up to 25% faster under mild freezing conditions and give extra protection at temperatures where conventional oils may fail to pump.
Should you use Shell Rimula R5 E?
Shell Rimula R5 E is approved by a wide range of engine makers for use in all but the latest engines. It's an excellent choice for operators of vehicle fleets in locations with large ambient temperature ranges: one oil to protect, whatever the season. It also directly helps to control operating costs by providing the potential for improved fuel economy.
Shell Rimula R5 E is suitable for US 2002, Euro 2, 3 and certain Euro 4 engines. For enhanced performance and protection of the latest low emission engines, especially those fitted with exhaust diesel particulate filters (DPF), we recommend the use of our advanced low-emissions products, Shell Rimula R6 LM or LME.
Specifications and approvals
SAE Viscosity Grade: 10W-40
API: CI-4, CH-4, CG-4, CF-4; ACEA: E7, E5, E3; Global: DHD-1; Cummins: CES 20078, 77, 76, 72, 71; Mack: EO-M, EO-M+; MAN: 3275; MB Approval: 228.3; Renault Trucks: RLD-2; Volvo: VDS-3.
The product specifications listed above may vary from time to time and may not all be available for sale in the United Kingdom. To obtain a specific recommendation for your vehicle from our UK product portfolio, please use our free online oil recommendation tool, Shell Lubematch.
Featured content
Use our Shell LubeMatch tool to find the right oil for your vehicle.
Download the Shell Motorist app for iPhone and Android: your partner for every journey.