Support and Flexibility Through a Time of Change
"Shell has also supported my decision to continue working part-time: it suits my son's school schedule." Find out why Anjali has felt continuously supported at Shell, and has benefitted from its flexible culture when becoming a first-time mum.
Diversity at Shell; it's not just about equality
For Anjali Goyal, Category Analyst in Shell's Contracting and Procurement Team, the real meaning of diversity at Shell was revealed when her pregnancy was followed by an emergency delivery and premature birth. These events may see a young woman's career be put on hold. Shell's flexible response meant her son, her family, her career and the work she did for Shell continued to develop.
Anjali Goyal had only just started with Shell when she found out she was pregnant. She was only two months into her new role based in India.
"When I found out I was pregnant my mind was flooded with thoughts, joy and other mixed emotions and, of course, questions. What timing! Pregnant, and I'd only just started at Shell: my ideal job – new company, new culture, new bosses.
I really should prove myself before asking for 'favors'. But, even in my very short time at Shell, I'd experienced a culture which encouraged workers to be honest and transparent. Shell responded immediately, warmly and positively."
Pregnancy doesn't always go as planned
Anjali's openness led to a plan by Shell for her maternity leave; it also covered her ongoing work activity well in advance. But, as any parent knows, pregnancy doesn't always go as planned. An unexpected emergency led to Anjali delivering her baby two months prematurely.
"My premature baby needed to be in the Neonatal Intensive Care Unit (NICU) for 40 days.
My work colleagues and managers covered my work after my unexpected and early departure. They didn't even ask me for a handover; they just did it.
This response by Shell to both my pregnancy and then my emergency delivery showed me that culture in the workplace is not about words; it's about deeds.
Personally, I thought Shell's response to my situation was extraordinary. I suppose, still new to Shell, in the back of my mind, I expected that by being pregnant and having a baby I would, as a woman, be sidelined: no longer relevant to the workplace. It's not uncommon in India for young mothers to quit work.
There was never an inkling of that sort of thinking at Shell."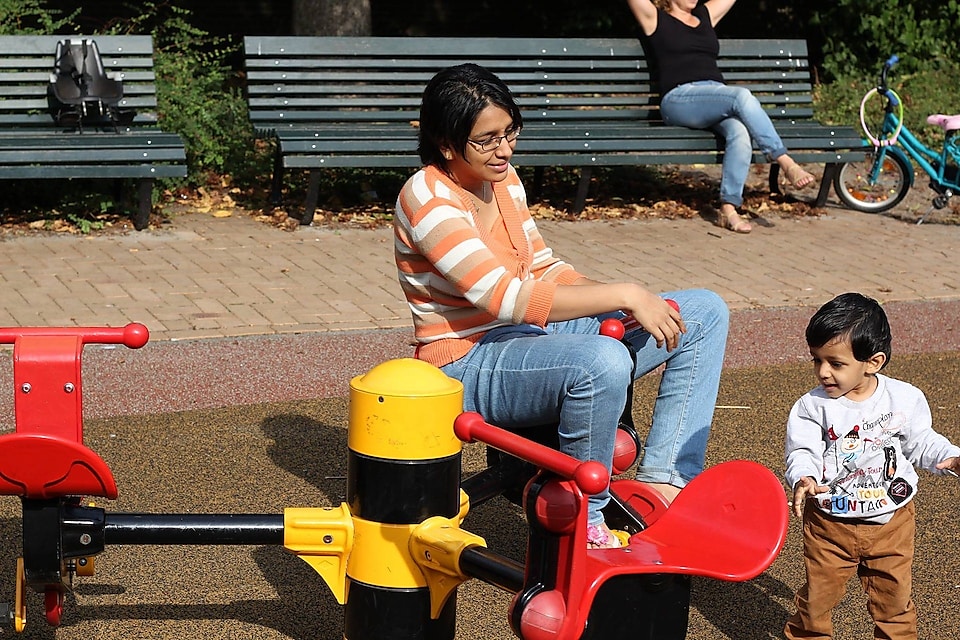 That's real diversity; it's diversity in action
"It was a very difficult year for me and my husband with a premature baby, but I felt supported and included by Shell all the way. To my mind, that's real diversity; it's diversity in action."
After the birth, Anjali worked from home for some time while her baby settled and developed.
"During this period at home I structured my time so that I could still deliver my work targets. My career and my work at Shell continued. This flexibility meant that I even received my promotion on-time," she said.
Today, Anjali's son is a happy and healthy three year old who goes to school till 3 PM.
"Shell has also supported my decision to continue working part-time: it suits my son's school schedule." Anjali works a 6-hour day (from 9am to 3pm), which gives her ample time and enough energy to devote to her son when he returns home from school.
"This flexible approach by Shell continues to encourage my working from home. This works because much of my time is spent online supporting teams based in the Netherlands: my location really doesn't matter. However, being actually at work with my Shell colleagues, meeting them face-to-face, is still very important to me and to my job; so I visit the office every Wednesday.
The really special aspect of my flexible working arrangement with Shell is that my son still doesn't know whether I am a working or stay-at-home mom. He just finds his mom available when he needs her and she has the energy to play with him. That's really important for our family."
Respecting differences and being flexible in accommodating them
Based on Anjali's experience, she believes diversity at Shell is not only about equality. For her it's especially about respecting differences and being flexible in accommodating them.
"We are different by gender, by culture and by our experiences. Our individual and family social expectations are different: so our needs are different too. Shell respects this difference and has in place flexible work arrangements to suit them. This inspires me, and many other Shell workers, to maintain their uniqueness while still working towards one single goal.
That's diversity."
More in Careers
Discover the benefits of working at Shell, from our outstanding training programmes to the multiple opportunities to network and collaborate.
You may also be interested in
If you are a professional with over three years' experience discover how you can make an impact with Shell.
Enhance your career development as an experienced professional with Shell and continue on your path to reach your full potential.
Are you a remarkable student or graduate with less than three years' experience? Join us as we explore and discover better energy solutions together.